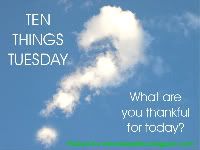 Tutorials have been moved to Thursdays. I love the thankful list too much!
I pushed myself during my running class. Sure, it was yesterday, but I'm feeling it today.



Sophie got to go back to school today. (And see Mrs. Kelly, the Final Authority on All Things. Well, according to my child.)



Getting to hold Mads as she cried for Sophie during naptime. Tuesdays are rough because she has to nap alone. It was nice that I could comfort her.



I wore my tie-dyed t-shirt today! Hated by my family, beloved by me! Did I mention I'm a little backward when it comes to fashion?



These pillows on soulemama. I just might be inspired to make something other than little girl dresses...


When I held Eliza up to burp her today, she turned her head and gave my face a huge lick. I know, gross, right? But it gave me a Big Laugh, and who isn't thankful for a Big Laugh?


I perused Liz's Blog - Mabel's House, today. I recommend it. Especially to you interior designer types. Just beautiful. Andria, her style made me think of you...


Heard from not one, but two old friends today!


Saw my friend Barrett, today. The phrase "breath of fresh air"? personified.


The Kitty Skirt. Without it, what would Sophie wear to water her flowers?
Thanks X-Box Wife! I've started doing this mentally every day!