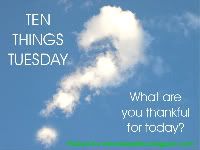 Hooray! It's that time again! If you aren't blogging about this by now, I hope you are doing it in your mind each day. It's such a mood lifter!
Today I am thankful for:



High thread count sheets. I'm exhausted and my bed is extremely comfortable.



Bouncies. If they hadn't been invented, how would I have gotten a shower for the past 4 years? (Ours is about to be retired. It has served us well. RIP bouncy seat ...)



General Foods International Coffee. Specifically - Cafe Vienna. Yum, yum.


While we are on the food theme, I am thankful for leftovers. Leftovers= no cooking. We can all rejoice!


Maddie did not cry for Sophie during her nap today!


About five minutes after this fit (see photo), my oldest crawled into my lap and said, "Sorry, mommy." I am thankful for that.


7. I'm also thankful for her generous nature. Last summer, she wanted to make dresses for all her friends. Now, she is really into making bows. She wants to have a big box of bows that "friends can pick from!"


8. I used the phrase, "now that I'm a runner" in conversation, today. I'm thankful that my friend didn't laugh. :-)


9. Sirius radio! It gives me my 80's on the way to run, my blue grass when I'm feeling my roots, and Kidsongs the rest of the time.


10. Hearing my girls singing from the back seat. Raise your hand if you think at least one of the heavenly angel choirs will be made up entirely of toddler voices!
I encourage you to do this in your own life. It's a blessing in itself. Then go to x-box wife, so we can all share in it!