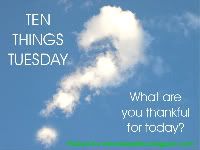 It's thankful Tuesday! Yea!! (The more I do these, the easier they have become. I now have to edit my list down to 10. This is helping me become a lot more grateful for my blessings.)
I'm thankful that my husband is not in the military. He gets to come home from work every day.


Talked to my sister-in-law, Anne, today. Oh, that girl makes me laugh! I am so thankful for our friendship.


Popsicles. When all is lost and we are bored to (literal) tears, it's popsicles to the rescue!


Ashleigh, my running buddy. Who would have thought that I don't dread our 5:30 runs?

Online banking!


Sophie dressing herself each morning. It may be a crazy concoction, but it's one less outfit I have to mess with.


Yeah, I know everyone says it, but Happy Hour at Sonic is one of my best friends.

Time with all 3 of my babies together. Usually coloring or lego-ing in the floor. I'm glad I've got all of them home with me for another year.


I found the scale! I thought maybe Jeff had hidden it. I get a little obsessive...


Blogging! I believe it's helping me to find the joy, the funny, the sweet, the significant in each day. And the comment section is a whole blessing in itself! Wouldn't you agree?