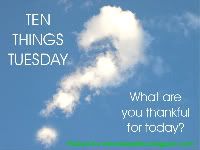 10 Things Tuesday!
I'm thankful for:
Being able to do laundry at my parents', yesterday. I'm totally spoiled now by their front-loading, high-efficiency washer and dryer.


That my own washing machine is fixed. It may not be fancy, but in the words of the great metal band, Cinderella, you "don't know what you got ('til it's gone)."


Diaper booty! (but also glad that at least one child's booty in this house is potty-trained)


All the advice from my buds about my van delimma. No matter how strange the question I ask, someone I know has an answer. Geniuses, all of you.


I'm out of the doghouse for said van delimma!


Cahoots. My older two girls are always in cahoots (usually about ways to not take a nap) but the other day I caught all three working together. I'm pretty sure the plan was to get Eliza out the door onto the deck. This is what happens if, heaven forbid, I try to go to the bathroom. Anyhow, I love how they already work as a unit. I'll probably regret those words! :-) (Doesn't it look like Eliza's directing the action?)
Everyone that Sophie wanted to invite to her birthday party is able to come! Except her cousin, Abby. :-( But we knew that ahead of time.
When I went jeans shopping on Saturday, I discovered that I had gone down a whole size. I know vanity is a sin, but I have never gone down a size in my whole 31 years! It felt crazy good!
Bedtime prayers. Kids want to pray for the sweetest things. It's a nightly lump in your throat.
And finally, I'm thankful for Sandi's honesty in her blog, today. She shared some things that I know I've felt but never felt comfortable letting anyone know. It was very inspiring.