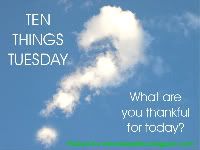 This is the day that the Lord has made! Here's my thankful list:


I'm thankful that my husband stays so active and fit. It's a great motivator for me and the right example for our girls.


Caffeine. Oh, beautiful caffeine, how I have missed you the last few years!


That no matter how many times Sophie changes her mind about her birthday cake, Jenny says, "Oh, that would be so cute!"


My local friends are so very tolerant of my absent-mindedness and obsessions.


Sophie says she's not afraid of bugs anymore. Great! That makes one of us.


That we picked "Enchanted" for our family night movie, Friday. The girls and I have danced all over singing "That's how you know, that's how you know". I'm quite positive our lone male is getting annoyed, though.


Eliza's a great sleeper. I'm hearing some horror stories out there, so I had better be grateful for that blessing.


I have a full tank of gas.


Maddie got up before her sisters and climbed into bed with me. *sigh* She's so cuddly. :-)


All my friends who are making thankful lists this week. You don't know what a blessing it is to me to read about all that God's given you!
Something I want to write down before I forget:
Today, Ms. Kelly told us to ask our kids about milking a cow. So, I said, "Sophie, did you milk a cow?"
"Yes!" she said.
"How do you do that?" I ask.
"Well ...... you grab it's hot dogs ......."