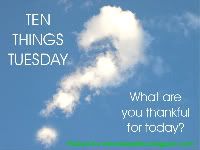 I'll admit it - I'm a sucker for a kind word. And
Dallas
is doing the most amazing thing this week. She's going down her blog roll and introducing each one to her readers. But, the coolest thing is how she's taking the time to be specific and complimentary to each one. What a great praise to our Lord to affirm His created in this way!
I've decided to do something similar with my thankful list this week. And yes, I am totally and completely copying. I will admit to that, too. I have never been a creative thinker. :)
10 People I am thankful for!











Woo-hoo! Thank you, Lord, for each of these people. They have blessed my life in so many different ways!
I'll be doing this all week!