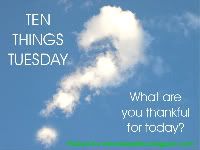 Okay, I can't talk about this (or
won't
talk about it, I don't know) but keep my mom in your prayers. Cancer stinks.....
Alright, let's count our blessings, shall we? Just a warning: I'm feeling a little ... what's the word ... wordy. :-)


Could it be? I have another new favorite song? Why yes, and it makes me happy! Go ahead and try not to dance to this one.




Maddie did cheers for Eliza the entire time I was in the shower today, complete with pom-poms and cheerleading outfit. (I know this because they were in the bathroom with me. I learned my lesson, yesterday!)




11 days until we leave for Florida! Woo hoo hoo hoo!




I'm going to start smocking for people! I wasn't trying to be secretive before, I was still making up my mind if I wanted to do it or not. And I do! Just finished a baby gift for Jenny, a bishop for my beautiful niece, and starting Gina's gift for little Ellis. Working on the web page, as we speak! If you would like something smocked, let's work together to create something adorable!




Sweet tea. And I make it so sweet, you could have it for dessert.




My husband. We may be total opposites, but we never run out of stuff to talk about and we laugh every day. And he's cute. :-)




Eliza is army crawling! We've never had one do this and it looks hilarious to us.



Dermoplast antibacterial pain relieving spray. It's been boo-boo central here at the Ramsey house lately.



My girls have friends that they love like family. They pray for them at night.



I have more girlfriends in my life right now than I ever have. I love it! My friend Julie W. (whom I consider a friend even though she likes to remind me of the fact that she used to baby-sit me) told me that she will never forget the days she was a stay at home mom and the relationships she formed. Oh, how she's right! Stuff I used to fuss about, now I vent to my girlfriends and we laugh until we cry. Okay, sometimes, we just cry. Either way, it's special and I am so very grateful for it!
God is good!