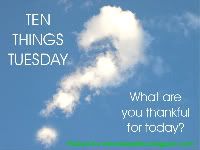 Hip, hip, hooray!
Today, I am thankful for:


I have a new favorite song! I love new favorite songs.


Mrs. Kelly has a stash of Dora band-aids. My usually super-coordinated child must be going through a growth spurt or something, because she is just one boo-boo after another. Fortunately, Dora was there for her three separate accidents at school today. (three!)


I got to see my mom today. :-)


After my running class yesterday, I realized that I might not be changing my outsides as much or as fast as I want, but my insides are getting a lot healthier. We ran for 12 consecutive minutes! It may not sound like a lot, but I'm pretty sure I couldn't have done that before.


My girls taught me some new dance moves. It looks a lot like bunny hopping in a circle.


We ate home-made pizza for supper!


The older two helped. (Well, Maddie bailed pretty soon after we started. But Sophie helped a lot.)


Amy brought me something today and she has no idea how much it is going to help me!


The stimulous is coming! (some have already gotten theirs!)


My husband is enthusiastic about my latest scheme. You've got to love him. :-)
God bless you , my friends!