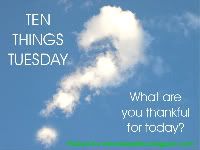 Mom starts back on chemo tomorrow, so that's what is on the old mind today. Here are 10 things to be thankful for during this illness:


Mom has a convenient excuse for all goofy or forgetful behavior - "chemo fog".


She has officially had the most consecutive "good hair days" our family has ever had.


I've learned some really big words.


Vanity goes and isn't really missed.


Empathy. I simply didn't get it before.


My mother realized how many people out there truly love her.


All the cards and phone calls. And food and flowers. And hugs and visits.


She has become a lot more vocal about her faith.


The blessing of intercessary prayer.


That our world and our bodies may fail us, but God never does.