10 Things Tuesday!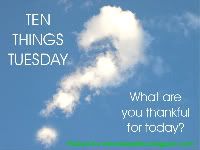 Today I am thankful for:



The little blow up baby pools. Cheap entertainment for the littlest Ramsey!



Speaking of cheap entertainment, those "6 for a dollar" water guns are absolutely priceless! (yes, I said guns. Don't go having any cows.)



And since we are talking about the water guns, I am thankful that the girls used them to clean the outside windows and back door today.



I am thankful that they used water and not detangling spray like last time....



We got to eat KFC last night! Sorry if that grosses out the majority of you.



Started Facebook last night. Don't know if that makes me feel old or young. It was fun finding people, though. (as I stayed up until midnight ... with a 5:30 a.m. run time the next day ...)



Super cheap (88 cents!) fingernail polish. My toenails are currently ocean blue. Makes me feel very peaceful.



We got a compliment at Wal-Mart today! In fact, it seemed as if every Wal-mart shopper was in a very mellow, tolerant-of-young-ones mood. We could have stayed all day.



I am thankful that Eliza loves to be outside. She doesn't have much of a choice, see.



No chemo this week!