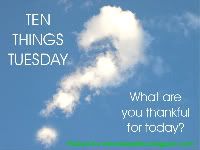 Here it is again!
10 Things I am thankful for today:



Lemonade. Over ice. In my yellow cup. If summer were a beverage ...



Sunshine on my shoulders. (makes me happy - so says John Denver, so says me)



3 little girls. Only the Lord knows how different I thought my life would turn out.



My husband. I love him. I could say this a million times over. He is much better to me than I fear I am to him. I certainly married up!



All the pregnancies, adoptions, and babies lately. I love it! However, this is not making my clock tick, don't worry.



Making a little money doing something I enjoy. This has been a fun week.



Having a sister that's 16 years my junior. Sometimes this is not-so-fun. This week it's a HUGE blessing!



Southwest's Sunday Fun-day! We had a blast and got a big old kick out of Maddie's interpretive dance to the devo songs. No, I didn't stop her. She was actually not trying to be funny, her little 2 year old self was really feeling it. It was beautiful.



Little Swimmers. Wish they weren't so expensive, but what can you do?



Each new milestone that Eliza hits. The big sisters are really enjoying cheering her on!