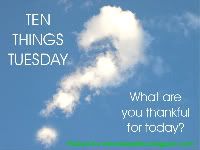 It's 10 Things Tuesday!
Today, I am thankful that
Today was a "running day". I really don't like getting up so early, but you know the old cliche' - I always feel better when I do.
I get to smock a lot now and I LOVE it!
I'm thankful that my old camera lasted as long as it did! RIP, camera. Godspeed.
There is actually a movie coming out that I want to see! (Mamma Mia) I can't remember the last movie I actually wanted to go see ... Not much for movies, me.
The Cubs are about to play on t.v., which makes my hubs happy. And when hubby's happy ...
I think we finally decided on the girls' paint colors for their room. They are blush and bashful, two shades of pink, one is much more delicate than the other. :)
Bug spray. The mosquitos are back.
Swimming lessons are going along swimmingly.
I get to see my sister tomorrow!
My children are still naive to the extreme. Example: today there was a very old person taking a smoke break behind the Waffle House. Maddie asked, "What's that?" Sophie says, "Let me tell you. When you get really old, you get sick a whole lot. He's just taking his temperature."